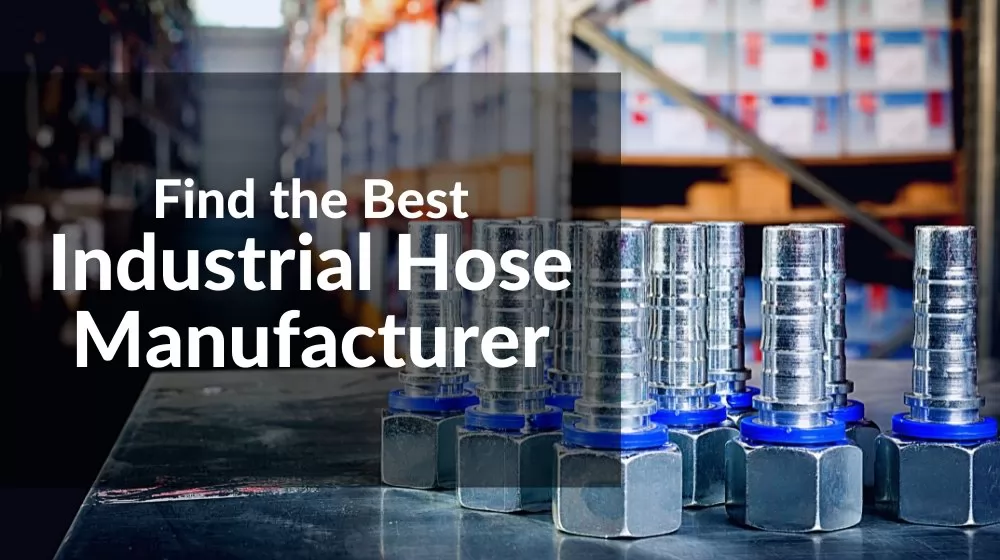 If you want to buy industrial hoses and hydraulic high pressure hoses from China or import industrial hoses from China, you must first know how to contact China industrial hoses manufacturers and find the best China industrial hoses manufacturers.
This guide will help you to understand and start your hydraulic industrial hose import in the right way and save money and time by working with the corresponding industrial hose manufacturer in China.
How to choose the right industrial hose
Determination of technical specifications: Understand the needs of the product, and then determine the main specifications of the industrial hose as needed. For example: working pressure, industrial hose inner diameter, industrial hose outer diameter, industrial hose conveying medium, use environment, service life, length size, minimum bending radius, etc. List a detailed table to determine the technical indicators of the required industrial hose. The following explains how to choose from these 8 aspects.
Working pressure

This depends on the maximum working pressure and whether it can meet the requirements.

Industrial hose inner diameter

To ensure that the medium transmitted in the industrial hose can be transmitted smoothly without blockage, it should be selected according to the diameter of the applied product and should not be too large or too small.

Industrial hose outside diameter

selected according to the size of the application product caliber, not too large or too small, to ensure that it can be assembled properly and does not leak.

Conveying medium

This is very important, we must pay attention to. Select the appropriate industrial hose when choosing. Such as conveying medium for hydraulic oil, select the choice of hydraulic oil resistance.

Use environment

Select the hose according to the use of the environment, to see whether the environment is harsh, whether in the open air, the time of light, whether often friction, external temperature, etc..

Use life

According to the requirements of the product, choose the appropriate service life, and consider the difficulty and cost of replacing the industrial hose when the service life is up.

Length size

According to the size of the product and the specific conditions of use, choose the appropriate length size, try to be just right, not over-bending or has been in a strong tension state.

Minimum bending radius

Because the industrial hose in the use of a minimum bending radius, so you need to consider the specific location of the product using industrial hose, to determine the appropriate minimum bending radius, so that the normal use of industrial hose environment does not exceed the minimum bending radius.
To learn more about our hydraulic hose, click to view our PDF!
We provide excellent products and services in 150 countries and regions around the world.
Advantages of choosing China industrial hose manufacturer
Flush the World Top Technology

High-level Workforce

Continuously Growing Population and Labor Force

Always Lower Cost

Infrastructure and Geography

Stablize
Click to read 6 reasons to choose a Chinese industrial hose manufacturer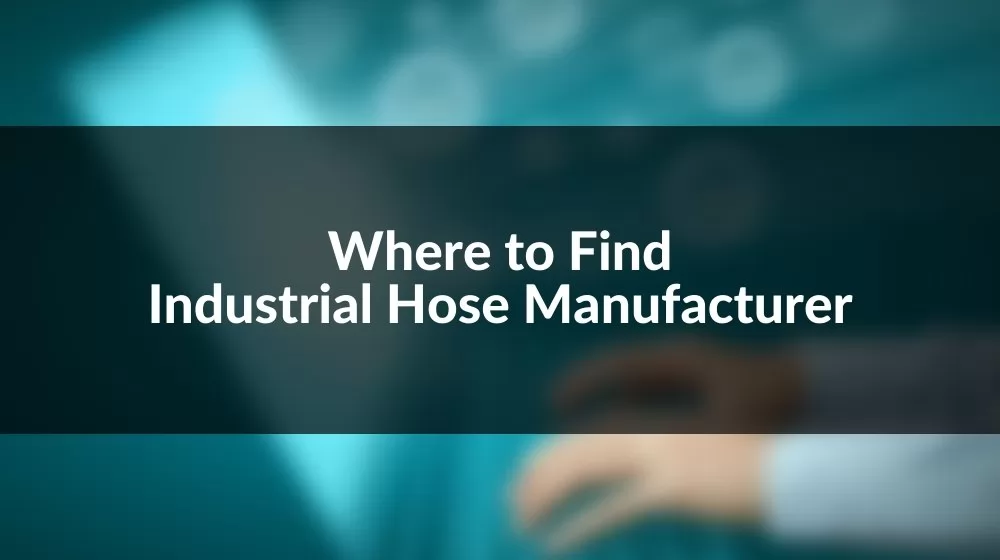 Where to find a reliable China Industrial Hose manufacturer
Finding industrial hose manufacturers online is relatively easy. The tricky part is knowing which ones are reliable and which ones are not.
Here are some reliable ways to find industrial hose manufacturers.
Industry gatherings and trade shows

Trade shows (also known as trade fairs) are exhibitions where manufacturers showcase their products and services. It's a great way to meet with manufacturers in person, so you can discuss your specific needs. The same is true of industry gatherings. You can't talk to manufacturers face-to-face. It helps build trust and confidence, and creates a more personal business relationship.

With the COVID-19 pandemic, there is a lot of resistance to trade shows.

Online Marketplaces

You can find manufacturers on popular online marketplaces in China such as Alibaba and Made in China. Manufacturers usually sell directly through these platforms, so if you come across a listing similar to the industrial hose product you want to make, you can try contacting the seller and asking if they are the manufacturer. You can also read reviews and contact previous customers. However, you do need to be on the lookout for scams and should still use the above guidelines for due diligence.

Google search engine

The websites of Chinese manufacturers of industrial hoses and accessories are included in the Google database. You can search for them using different keywords. However, there are not many Chinese industrial hose manufacturers that pay attention to Google, so you may have to turn a few pages to find their information, but they are often very good.

Social platform groups

Facebook is a great place to find entrepreneurs and communities with similar interests to yours. There are many groups to choose from, but look for groups that are specifically for eCommerce entrepreneurs. You're sure to find questions and answers related to finding a reliable industrial hose manufacturer in them!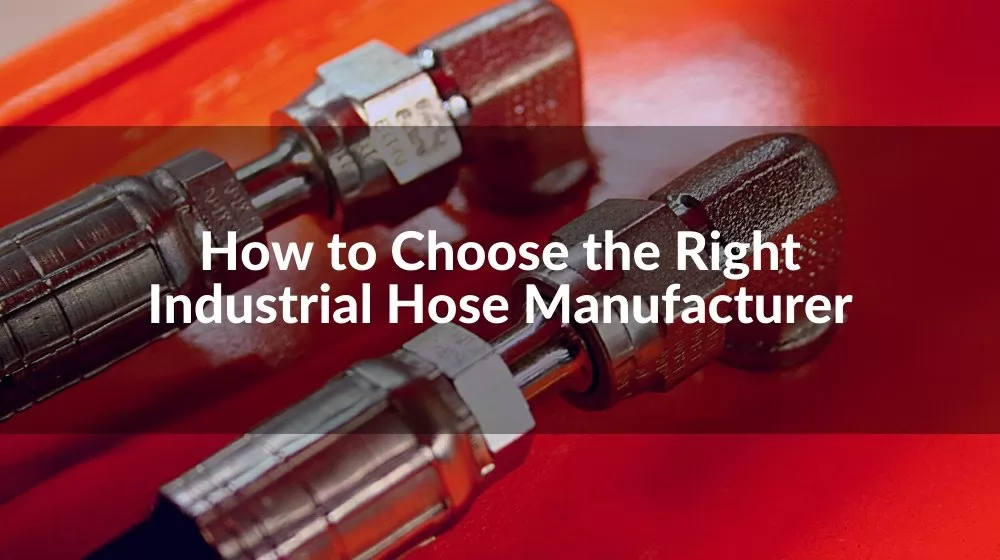 How to identify an industrial hose manufacturer
Can they make your product?

This may seem like a good question to address, but it's an important one. Not all industrial hose manufacturers are able to produce all types of industrial hoses. For example, high-pressure industrial hoses often require special processes and materials. You need to make sure that the manufacturer you choose can produce the industrial hose products you want. Better yet, you should try using a manufacturer that specializes in the industrial hose you want.

Domestic or foreign industrial hose manufacturers?

You need to decide whether you want to work with a local manufacturer in your country or region, or with an overseas manufacturer. Usually this means choosing between manufacturers in the US and Europe or manufacturers in Asia (usually China, Vietnam, India and Bangladesh). It can be difficult to find an economically viable industrial hose manufacturer in smaller countries, but if local manufacturing is important to you, then you may be able to make it work.

National industrial hose manufacturers

There are many benefits to working with a national industrial hose manufacturer. For one thing, it's much easier to meet with a manufacturer, inspect their plant and discuss your specific needs without a language barrier. There are stricter labor regulations and better working conditions. Consumers are becoming more aware of these things, and "made locally" can be a powerful selling point. You will also benefit from faster shipping times and satisfied customers. Quality also tends to be higher.

However, all of this comes at a financial cost. Using a domestic manufacturer usually costs more, but you also have a reason to charge more for your industrial hoses.

Overseas industrial hose manufacturers

The main benefit of using an overseas manufacturer is cost. They are almost always much cheaper, which is why so many clothes are made in China. However, this is usually because labor standards and working conditions are not regulated, and you need to keep this in mind.

You also have a much harder time visiting and inspecting factories. While overseas manufacturers can produce quality industrial hose, it is up to you to choose a reputable manufacturer.

Shipping times are also longer when products are sent internationally. However, if you buy industrial hose in bulk and ship it yourself, this is not a major problem.

What is a minimum order quantity (MOQ)?

When you work with an industrial hose manufacturer, you need to know what their minimum order quantity is. This means the minimum number of items you need to purchase in a single order. MOQs can range from 200 to 2000 pieces or more. Manufacturers rarely have a minimum order quantity. This is important to you because if you start working with a manufacturer and place your first order and they tell you that you need to buy 1500 pieces of the swimsuit you want to manufacture, you may not be able to afford it. Also, it's not a good idea to buy 2,000 suits if you're not sure if you can sell them all. You will then be left with excess inventory that is difficult to move.

In short, before you start working with an industrial hose manufacturer, make sure you can manage a minimum order size.

Can they provide product samples?

Try before you buy. If you have a manufacturer making industrial hose for your business, you need to make sure you can get a sample before submitting a large order. This is important because if something goes wrong, you can make adjustments until it's right.Imagine ordering hundreds of pieces of industrial hose, only to find that they won't work on your machine or don't match local market specifications.

The easiest way to do this is to mention it early in your communication. Most manufacturers will be more than happy to provide samples, usually for a modest fee, but you can get them to commit from the start.

What are their fees and shipping costs?

In the excitement and rush of bringing your industrial hose business to life, it's easy to overlook basic due diligence. Simply ask the manufacturer in a line or two in an email if they have any additional fees that you should know about, as well as their shipping costs and times.

This is very important information to help you decide whether to work with that manufacturer, so make sure you address it early.

What is their production capacity?

You may not consider this until your business is booming. Can you rely on your manufacturer to produce your industrial hoses faster and at greater capacity? That's why you should ask your supplier about their production capacity. Make sure they have the capacity to make improvements when needed. Also ask about turnaround time or lead time, which means how long it will take for the manufacturer to fulfill your order. You don't want to wait weeks or months for an order, missing out on potential customers and sales in the process.

What are their quality standards?

Unfortunately, this is not something you can ask a manufacturer in an email and take their word for it. However, you can do your own research by reading the manufacturer's reviews online, visiting the plant (if possible) and ordering samples. Remember, the quality of your industrial hose determines your reputation, so you want to make sure the manufacturer is producing industrial hose to a high standard. You are better off paying a slightly higher price for a higher quality item than risking your reputation to save a few dollars.

Industrial hose manufacturers technical support

Under normal circumstances, manufacturers of industrial hoses and hydraulic fittings provide regular testing support and warranties. Industrial hose assemblies are assembled according to the manufacturer's specifications. In general, if there is a problem with the assembly, the appropriate repair or technical treatment will be carried out. Support. However, if you choose bulk fittings to match, you may lose the original protection and the corresponding support from the manufacturer.

Industrial hose use specifications

The Society of Automotive Engineers (SAE) standard states in Section 6.3 of SAEJ1273, "Hoses from one manufacturer are usually incompatible with fittings from another manufacturer. Do not use hoses from two manufacturers without the agreement of both manufacturers. Mix hoses and fittings together." Two manufacturers may offer similar hoses and fittings, and they may appear close enough. But the SAE guidelines are clear on this topic. The International Standards Organization (ISO) and European Standards (EN) also provide performance standards and guidelines for hose performance.

Rigorous industrial hose performance testing

Performance guidelines are provided for all hose assemblies, and many manufacturers test them during the hose manufacturing and assembly process. Manufacturers' tests typically show only their hose products and their accessory products, and the hose and accessory interface is one of the most common areas of failure during testing, so matching is important.

The risk of ill-fitting industrial hoses

To determine if the cost is worth the risk, you must first understand the extent of the risk. When a hose assembly fails, hydraulic fluid can spray everywhere. For example, if a hose assembly fails on a garbage truck that collects trash on city streets, the owner of the truck will need to hire a company to clean up the spill and could face fines for the leak in the first place. The risks are different, but equally important to consider indoors. Environmental fines may not be as important, but the danger to workers certainly is. Hydraulic fluid is very hot and can lead to serious burns if a hose bursts.

Repeatedly testing the right industrial hoses

Finding the perfect hose assembly requires a lot of iterative testing. Perfecting the crimp diameter is a daunting task, with a tolerance of six thousandths of an inch on the crimp diameter. When purchasing hose and fittings from a manufacturer, the company can recommend the proper crimp diameter to create the best connection. Many Chinese industrial hose manufacturers have begun to accelerate their own technology development to improve the reliability of the connection, and to align with top international companies to enhance competitiveness.
List of industrial hose manufacturers
Fushida Rubber Technology Co., Ltd.

Laike Machinery

Qingdao Qingflex Hose Factory

Hebei Qianli Rubber Products Co., Ltd

LUCOHOSE

Shijiazhuang StrongFlex Industrial Co.

Sinopulse Hose Factory Co.

Qingdao Techoses Industrial Co.

Sunhose

Epower Machinery
Click to read the top 10 industrial hose manufacturers in China
Choose the best industrial hose manufacturer in China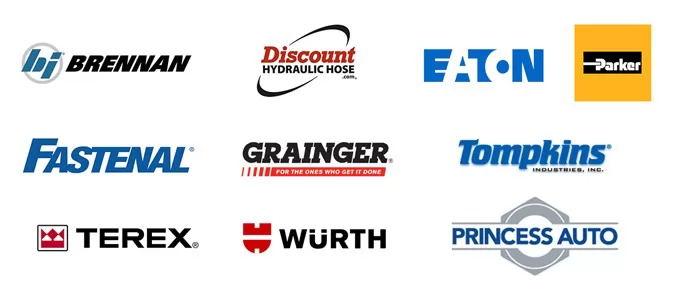 Founded in 1995, Lake Hose is dedicated to the development and manufacture of hydraulic hose fittings, industrial hose, hydraulic adapter and other related products, which are widely used in mining, machinery, transportation, shipping, oilfield and other fields.
With reliable quality, reasonable price and excellent service, we have successfully built up our reputation and won customers from all over the world. Some of our major customers include Parker, Eaton, Terex, PrincessAuto, etc. Our cooperation includes OEM/ODM services, customization, etc. We will try to keep up with our work, upgrade and improve, innovate and invent so as to strengthen the partnership with our customers.
If you need to purchase industrial hoses, please visit our website where you can view our products and contact us.
More reading:
China's top ten manufacturers of hydraulic hose and fittings
How to choose a Chinese manufacturer of hydraulic hose fittings