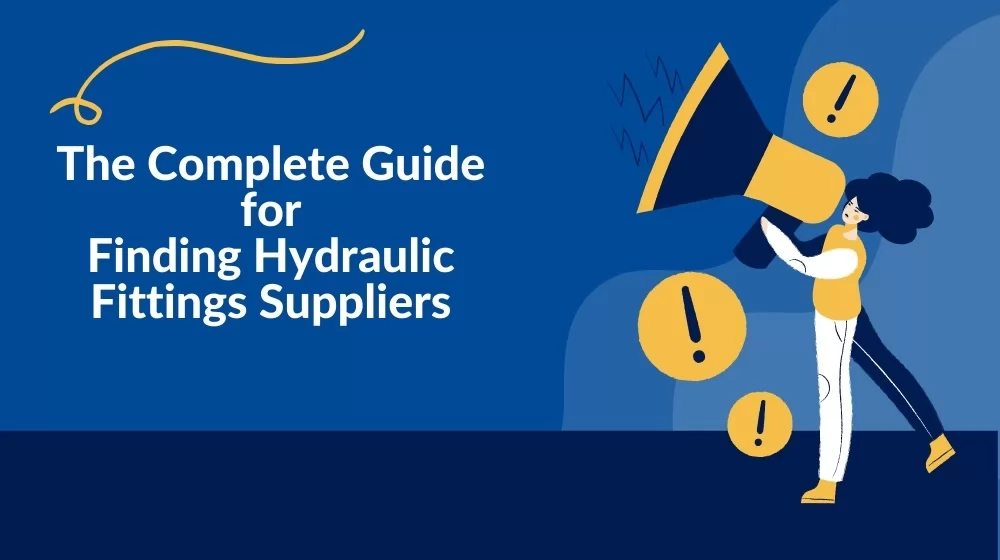 Are you looking for excellent hydraulic fittings suppliers to purchase hydraulic fittings? Seeking high quality and cheap hydraulic fittings is the primary goal, then hydraulic fittings suppliers from China is definitely a suitable choice. So how to find the right hydraulic fittings suppliers?
1: Why China Hydraulic Fittings Suppliers Have An Advantage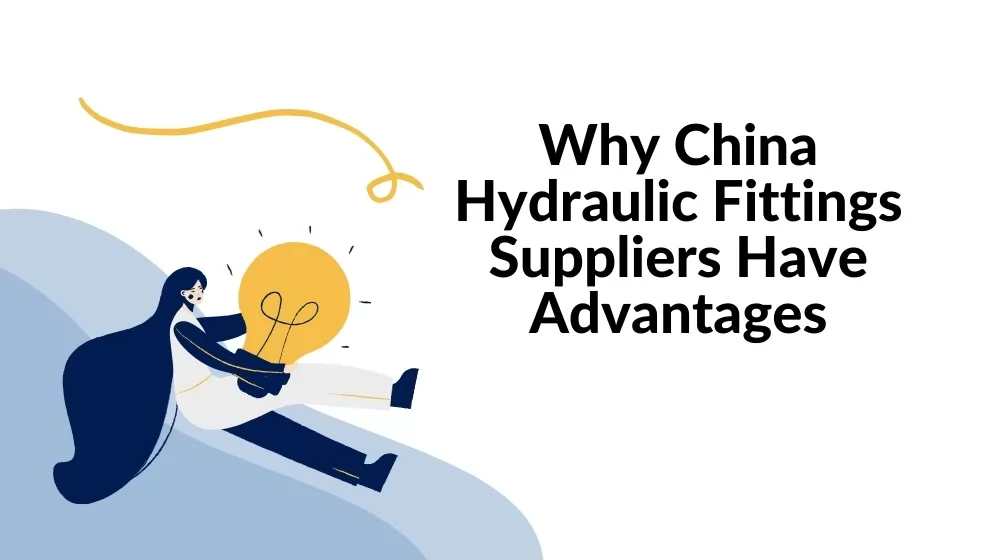 A large population, a vast area, and good infrastructure are all factors that give China a manufacturing advantage.
Such benefits also extend to hydraulic fittings made in China, so production costs are much lower than in most countries.
Cost-effective Chinese hydraulic fittings are competitively priced for customers who used to have to spend a fortune to obtain them.
But what about the quality of hydraulic fittings made in China? Perhaps you have this dilemma.
China is the world's factory and industrial power, and the only country in the world with a full range of industrial categories.
Before the Chinese hydraulic fittings brand into the market. There are already several factories that produce on behalf of well-known brands.
Therefore, technology was not an issue when skilled employees started developing their own hydraulic fittings brands, as the Chinese hydraulic fittings industry has grown steadily over the last few decades.
Hydraulic fittings made in China are becoming more and more popular in the market in terms of quality, features, etc.
More and more purchasers will understand that Chinese hydraulic fittings are not unreasonably priced fittings, but rather good hydraulic fittings that are worth considering and can help suppliers with fluid transfer needs.
2: The Benefits of Working with Chinese Hydraulic Fittings Suppliers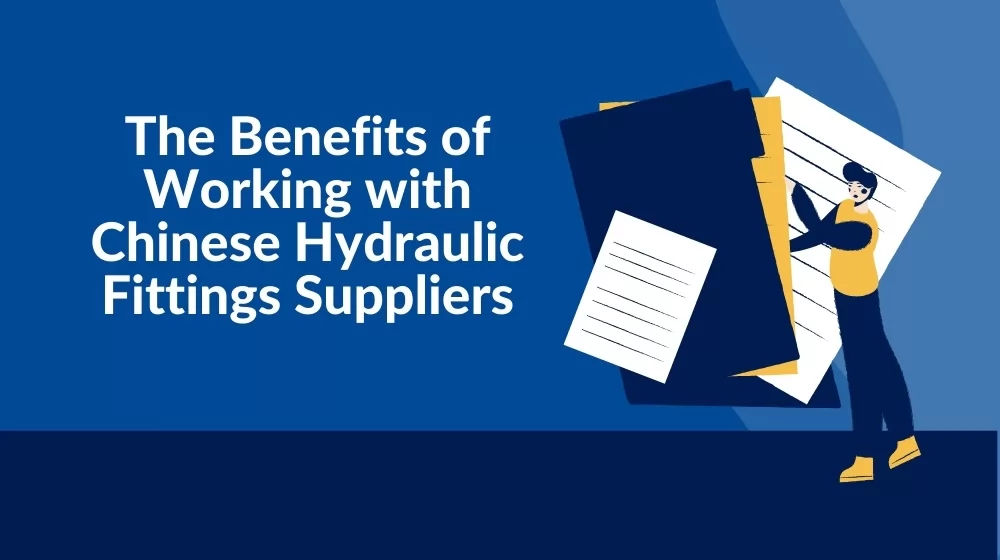 As mentioned earlier, China hydraulic fittings are more affordable and quality is guaranteed. If you want to sell hydraulic fittings, what benefits can you get by working with Chinese suppliers?
2.1 Reduce your purchasing costs

You may be more likely to distribute hydraulic fittings from well-known brands, but sourcing from China can significantly reduce your purchasing costs.

The average cost of manufacturing in China (wages, rent and taxes) is lower than in developed countries, so you can purchase hydraulic fittings at a relatively low price.

2.2 Get unique, customized hydraulic fittings

When you work with a large international company, you are more likely to get a standard product because you are only one of their distributors. But if you work with a Chinese supplier, you can request a customized service.

Imagine, when users can only contact you to get one specific product, doesn't this give you a competitive advantage in the market?

2.3 Expand your brand influence and win more customers

Brand is an important intangible asset for your company. Maybe your brand is well known in the hydraulic fittings industry, or you just plan to promote your brand more, in either case, it may help if the product gains a good reputation for being made in China for hydraulic fittings.

2.4 Get stable production capacity and guaranteed delivery time

One of the major advantages of Made in China is its stable manufacturing capacity, which is a difficult advantage to have elsewhere.

Modern hydraulic fittings factories in China are equipped with advanced equipment and professional operators follow ISO guidelines at every step of production, all of which ensure the quality of hydraulic fittings.

The larger China hydraulic fittings factories have very high production capacity, so you don't have to worry about the capacity not being able to meet your order requirements.

2.5 Leave after-sales issues to suppliers

After-sales service is very important for the sale of hydraulic fittings. If the after-sales service is not done well, the brand reputation will be greatly affected.

By working with a reliable supplier, you can come up with solutions together. In the case of Laike, for example, we supply new hydraulic fittings to partners who can repair them locally.

In any case, a reliable after-sales partner can help you reduce the loss of returns/rejections.

In short, trustworthy China hydraulic fittings suppliers can help you earn more profit and drive your business forward by leaps and bounds.
Click to read 6 reasons to choose China hydraulic hose fittings.
3: Things to Consider When Choosing China Hydraulic Fittings Suppliers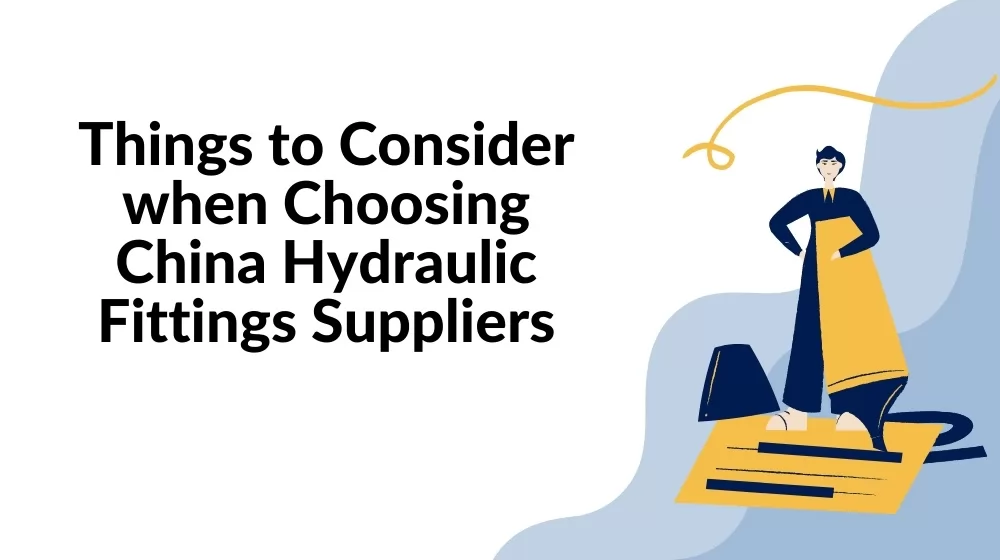 When you want to purchase products from China, you will certainly consider three factors: price, quality and delivery time.
3.1 Price of hydraulic fittings

When it comes to price, you may often hear suppliers ask you how much you want to buy. As you can see, the reason is that mass production is more efficient and less costly for the factory.

If a production line needs to switch orders back and forth, efficiency will be compromised. If you are buying in large quantities, you can ask your Chinese supplier for more price support.

3.2 Quality of hydraulic fittings

One thing you should know is that the components used by different suppliers can vary greatly, even if they are the same hydraulic fittings.

3.3 Delivery of hydraulic fittings

Thirdly, timely delivery will minimize your out-of-stocks. Especially if you are running some marketing campaign, we should prevent late deliveries.

In addition to the above 3 aspects you should pay attention to, there are some areas you need to pay special attention to.

3.4 Customized products

Different markets have different functional needs and specification requirements. Therefore it is very important to customize for various different needs.

In addition, the technology for hydraulic fittings products is more mature.

You can specify the features you want in a product and then check with the supplier to see if the product meets your needs.

3.5 Qualifications of hydraulic fittings suppliers

Hydraulic fittings are a kind of production machinery with a very high entry barrier. For European countries, the CE certificate is mandatory. For the US market, both exporters and importers need to register with the FDA if they are sold as "hydraulic fittings".

Having said that, you should verify their qualifications.

Laike is the leading supplier of hydraulic fittings in China and is the first listed supplier of hydraulic fittings in China.

3.6 After-sales service

In addition to the product, price and delivery time, the service of the supplier is also important. Whether it is the ability to answer your questions in a timely manner or to help you with after-sales issues, these can affect your business operations.

You can watch the supplier's performance during communication to see if they have these experiences and the ability to provide good service.
For more details, you can read 10 tips on choosing a hydraulic fittings manufacturer
4: Tips for Importing Hydraulic Fittings from China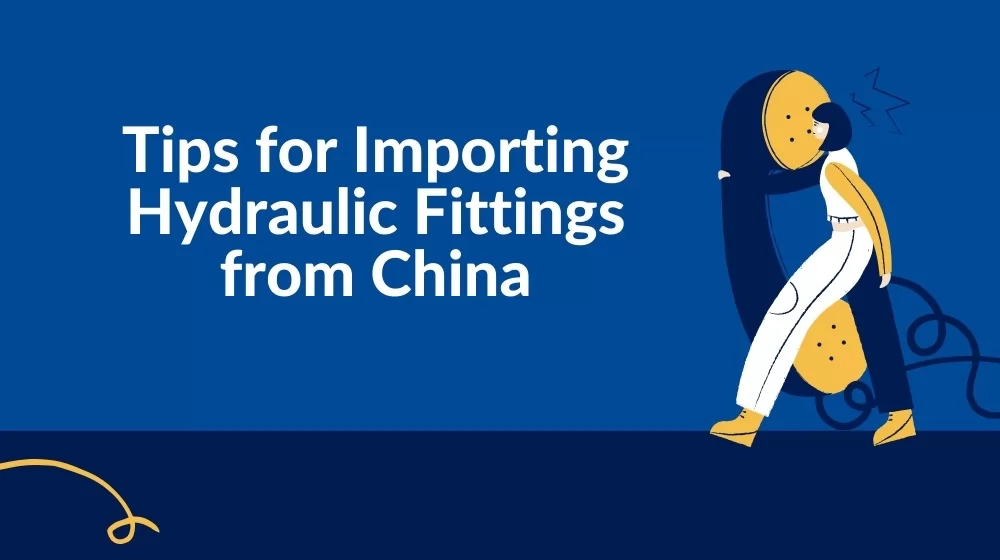 4.1 Where to Find Suppliers of Hydraulic Fittings
Generally speaking, you can find suitable suppliers of hydraulic fittings in China in the following three ways
B2B platforms

You can find suppliers on various b2b platforms. The famous b2b platforms in China are Made in China and Alibaba

Foreign trade fairs

Through foreign trade shows, you can get in touch with most of the hydraulic fittings suppliers in China and communicate and negotiate on the spot. However, due to COVID-19 pandemic, Chinese hydraulic fittings suppliers are reluctant to participate in overseas exhibitions.

Google Search

By searching hydraulic fittings suppliers on Google, you can search independent websites of hydraulic fittings suppliers. They are more professional and responsive than platform providers. We recommend that you use this method to find the right hydraulic fittings supplier
4.2 If You Have Already Started Sourcing from China, Please Ask the Following Key Questions Before Finalizing Your Supplier List.
Material

Carbon steel: #45, #35, #20, 08F. Prices can vary greatly depending on the material used, with the most expensive #20 #35 and the least expensive 08F. Sometimes you get cheaper steel simply because your supplier is using cheaper steel. This is not always a bad thing, as you may happen to only need cheap steel. Assuming your hydraulic system does not require a lot of pressure, it is more economical to use 08F instead of #20 #35. However, if your hydraulic application is pressure critical, it makes sense to buy #20 #35 #45 to avoid any potential explosions.

Surface Finishes (Galvanized)

The most common type of plate is galvanized, also known as Cr3+ plating. However, the price may again vary depending on the same plating. Therefore, it is wise to ask about corrosion resistance time, also known as salt spray test hours. Typically, the industry standard is 96 hours, but prices vary. It may be as low as 72 hours or as long as 560 hours or more, depending on your specific needs. On the other hand, there are other types of plating, such as nickel-zinc plating, that are more expensive and certainly suitable for more demanding applications.

Standard

The most popular standards for hose fittings and adapters are SAE and Eaton. They have different hexagons because people in different countries use different wrenches. In general, SAE and Eaton standards are interchangeable, but each country does have its own preferences. Therefore, it is wise to determine which standards you use and inquire accordingly.

Forge

It's important for your suppliers to have their own forge to reduce household costs, maintain consistent product quality and shorten lead times.
Click to read how to choose a hydraulic hose fitting manufacturer.
5: Top hydraulic fittings suppliers in China
You may be wondering who are the top hydraulic fittings suppliers?The truth is it's hard to say because different buyers have different needs and criteria.
Laike Hydraulics

JiaYuan Hydraulic Fittings Factory

NINGBO PEHEL HYDRAULIC MANUFACTURING CO.,LTD.

Cangzhou QC Hydraulics Co., Ltd

Yuyao Ruihua Hardware Factory

Qingdao Xiangchengde Machinery Co.

Ningbo Nj Hydraulic Adapter Co.,ltd

Hua Yan Hydraulics

Jiangsu YiCheng Fluid Equipment Co.

Epower Machinery
Note: There are too many hydraulic fittings suppliers in China to list them all. The order does not imply a ranking. And we are sure there are many great hydraulic fittings suppliers that may not be on the list above.
For more information, please read this article on the top 10 hydraulic fittings suppliers in China
6: Selecting the Best Hydraulic Fittings Suppliers in China
Laike Hydraulics is a leading supplier of hydraulic hoses, hydraulic hose fittings, hydraulic adapters, hydraulic coupling products in China. For nearly 30 years, with excellent products and a strong team, Laike has grown to be the leader of hydraulic hoses/hydraulic hose fittings/hydraulic adapters industry in China.
Reasons to choose Laike
We are a popular supplier of hydraulic fittings

Advanced production equipment

Strict quality control

Over 20 years of experience

Professional R&D team

Faster delivery time

Highly competitive price

ISO90001
With reliable quality, reasonable price and excellent service, we have successfully built our reputation and won customers from all over the world. Some of our big customers are Parker, Eaton, Terex, PrincessAuto, etc. Our cooperation includes OEM/ODM services, customization, etc. We will try to keep up with our work, upgrade and improve, innovate and invent so as to strengthen the partnership with our customers.
Looking for china hydraulic fittings suppliers? Contact us now!